DeSoto Food and Resource Center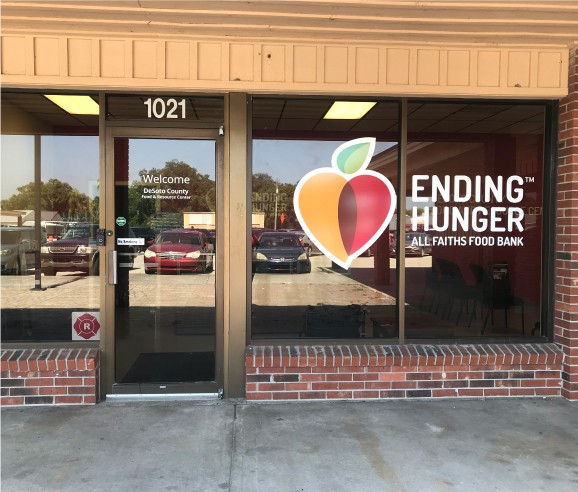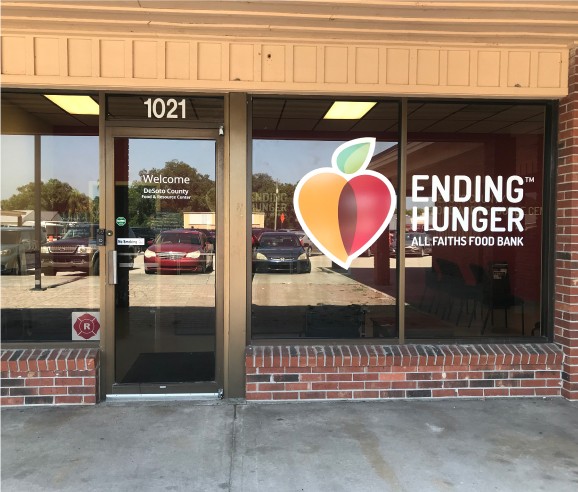 All Faiths Food Bank is the only food bank serving DeSoto County and has provided programs and services in the community for more than 15 years. In May 2019, to help community members gain long-term food security, better health outcomes, and self-sufficiency, the food bank opened its doors to a Food and Resource Center, a one-stop-shop where clients can meet with staff to assess their needs, receive or be referred to services, and receive emergency food.
Services include:
-Extended days and hours for distribution, including evenings and weekends to serve those who cannot access other All Faiths Food Bank food distributions
-Free emergency food*
-Free application assistance for:
SNAP (formerly known as food stamps)
Medicaid
TANF
Social Security
Disability
Income Tax Assistance
-Group education opportunities
*If you attend any All Faiths Food Bank Mobile Distributions, there must be a 14-day gap of services in order to receive food at the DeSoto Food and Resource Center.
Opening Hours
Mondays: 10:00 am – 2:00 pm
Wednesdays: 10:00 am – 2:00 pm
Thursdays: 2:00 – 6:00 pm
CLOSED: – 10/9, 11/23 & 11/24, 12/25
For the health and safety of our staff and community, food provided will be pre-boxed items to grab and go.
Group Education Classes
Social Services Schedule 
Social Security Administration | Monday 9/18 | 10 am- 2 pm
Health Department free health screenings | Every second Wednesday of the month | 10 am – 2 pm
Tax Assistance | Please call Odella to schedule an appointment at 941-374-0010
This institution is an equal opportunity provider.
1021 E Oak Street, Arcadia, FL 34266